I am so excited for today's project. A few weeks back I saw this adorable Paper Cake on
So You Think You're Crafty
.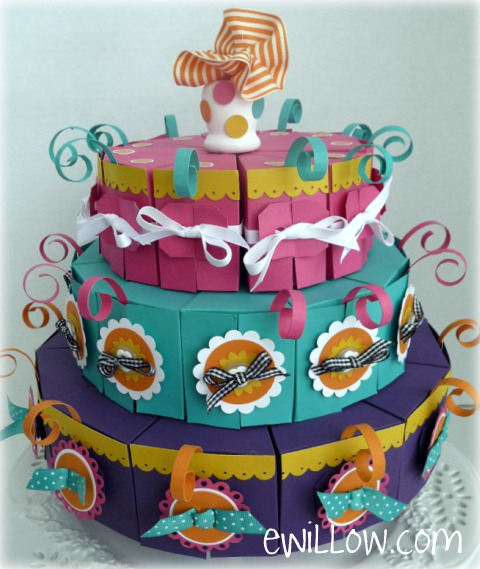 Charlene from eWillow.com submitted it as her project for the finals. She was so generous and posted printable templates and a tutorial. I contacted Charlene about making a SVG version available so anyone with a Cricut cutting machine and
Sure Cuts a Lot Software
can cut out her templates easy peasy. Charlene thought it was a great idea. For those of you that haven't heard of it before.
Sure Cuts a Lot
(SCAL) allows you to connect your Cricut to your computer and cut Fonts and Images straight from your computer. You will never have to buy another cartridge if you don't want to!
Charlene already has a
great tutorial
for constructing and decorating the cake, so I am just focusing on how to use the SVG files and cut the slices out.
Here is what you need:
- A Cricut Cutting Machine
-
Sure Cuts a Lot Software
* or other software that connects your Cricut to your computer
1. First thing you want to do is download the SVG files.
DOWNLOAD the Cake Slice Template
The file is a zip folder containing three SVG files. One file for each layer of cake.
2. Save and unzip the files.
3. Open up your Sure Cuts a Lot and select the option to Import SVG. It should look something like this:
Here are the sizes you want each size slice to be:
PaperCakeSliceSmall.SVG - 8.028" wide x 6.06" tall
PaperCakeSliceMedium.SVG - 8.565" wide x 7.067" tall
PaperCakeSliceLarge.SVG - 10.131" wide x 8.005" tall
These sizes will exactly duplicate the cake Charlene made. If you decide to experiment with the size make sure you lock the aspect ratio so the size stays proportional.
4. Cut 11 of each slice of cake. In the tutorial, Charlene has cut marks and score marks. I decided to perforate the score lines so they would be easy to fold. Here is a picture of what the middle layer looks like after it has been cut. I have tested several of these, and the perforations make folding this so easy!
Charlene also includes a step in her tutorial to punch holes in the close tabs for ribbon. I added those punch holes so you can skip that step too.
Now that your slices are cut, you can use Charlene's tutorial to construct the cake and decorate. Follow the link to get to the tutorial on
eWillow.com
.
Charlene and I would love to see what you create with this! You can set up a Studio over at
eWillow.com
to show off your beautiful cakes.
I will be making one for a baby shower in two weeks and I will definitely be posting some pictures here.
Here is the fine print...
*Disclaimer: I am an affiliate of
Sure Cuts a Lot
which means that I get a small percentage of sales from people who follow my link and purchase the software. I look at it as a little thanks for taking time to develop these SVG files and making them available to everyone for free. If you are planning to purchase the software, please go through me. :) I get really excited and it makes me want to create and share even more.