This post brought to you by
Walmart
. All opinions are 100% mine.
I am loving the trend of having colorful kitchen appliances. I spend a lot of time in the kitchen, so I like that I have have pretty appliances that make me happy. My kitchen in particular is right in the middle of the house. You can see the kitchen from anywhere on the first floor. It's nice to have things coordinated and looking good.
Walmart has introduced the
BELLA Linea Collection
which contains a 12-cup programmable coffee maker, a programmable slow cooker, a 2-slice toaster, a long slot 4-slice toaster and a sport rocket blender. All of the different products are available in different colors.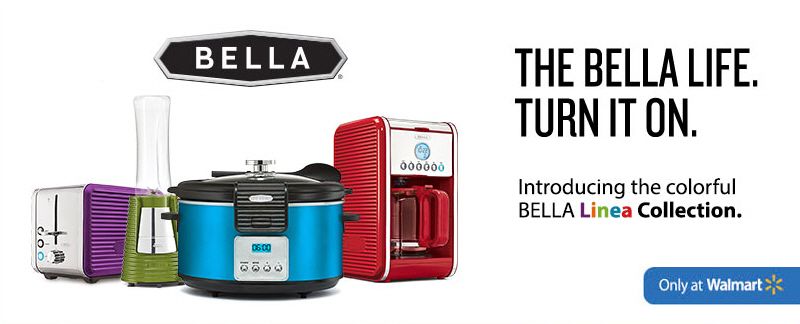 My number one choice would be the programmable slow cooker in Teal. Teal is currently my favorite color. I would really love to re-do my kitchen in teal and the slow cooker would be a great start. Currently my kitchen has a red with a lot of cherries, so the red option would work really well for me too.
I have always wanted a programmable slow cooker. It gives you so much more freedom. The BELLA® Linea Collection 5QT Slow Cooker has three heat levels: low, high, and warm. It is also programmable from 30 minutes up to 20 hours. It will automatically switch to warm after the timer has expired.
Another feature I would love to have is the spill-free locking lid. I've had to transport my slow cooker many times and it almost always ends up in spills or close calls. A locking lid would be amazing.
There is one more feature that I am pretty excited about. The BELLA® Linea slow cooker has a hinged lid and a spoon rest for easy serving. I love to entertain and I often use my slow cooker. It's always awkward for guests to have to find a place to set the lid down so they can serve themselves. You don't want to remove the lid or the food gets cold. A spoon rest also means that you don't have to worry about getting the counter messy too. It's pretty genius in my opinion.
Mother's Day is right around the corner. I can tell you that I wouldn't mind unwrapping one of these guys on Mother's Day. It's the perfect time of year to really start cooking with your slow cooker. It uses less energy than the oven and it doesn't heat up the house so much. You can start dinner and then have a fun filled summer day with the kids. Dinner will be ready when you get home!
You can see the whole
BELLA Linea Collection
at the link. Which appliances do you want to get? What colors would you pick? Let me know in the comments!